New Paths in Old Woods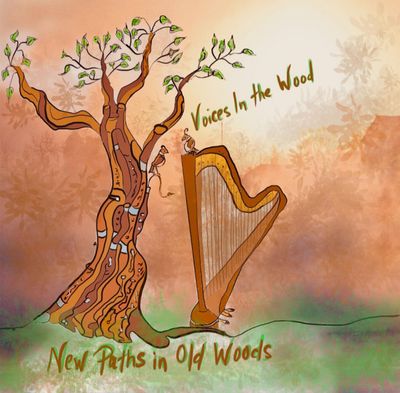 "New Paths in Old Woods" is a cross-genre foray into Celtic music through the lens of classical music's bassoon choir, along with harp, violin, percussion, and Irish whistle. Thanks to Rosalind Buda's already existing ensemble with Kelly Brzozowski, The Reel Sisters, it was delightfully easy to find a harp player willing to take part in a rather experimental set of sessions. We often caught Kelly laughing while we were in the studio. She was astounded by all of our bassoons and the sounds we were creating with them, and she found Staci Spring's contrabassoon to be particularly amazing. We all discovered that we loved pairing Kelly's expressive, flexible harp sound with bassoons, bringing so very much goodness and magic to the table. It immediately became impossible to even consider NOT having Kelly with us, and luckily she agreed to permanently join the group!
We also brought in fiddler Bella Issakova and violinist Mariya Potapova for "New Paths in Old Woods", and Rosalind provided Irish whistle and percussion in addition to bassoon.
Danny Boy

Irish Trad./Frederic Weatherly

Arr. Amber Ferenz

Amber Ferenz, Kathleen Moniaci, Staci Spring, Rosalind Buda, Sasha Enegren: bassoons
Rosalind Buda: Irish whistle
Kelly Brzozowski: harp
Mariya Potapova: violin

"I chose to adapt and arrange "Danny Boy" for Voices In the Wood in memory of our friend and colleague, bassoonist Eric Van der Veer Varner. Eric died suddenly while on tour in Thailand with the PEN Trio in October of 2019, and so did not experience our COVID-changed world. While the origins of this song are attributed to multiple people, it was English lawyer and lyricist Frederic Weatherly of Bath, Somerset who is credited with writing the lyrics in 1910 and setting them to the tune of "A Londonderry Air" in 1913. One of the most poignant songs in Irish traditional folk literature, "Danny Boy" has been performed around the world in myriads of instrumental and vocal combinations and remains a perennial favorite among musicians and audiences alike. I added original melodic material to fill out the song, and brought in harp, Irish whistle, and violin for color and line. -Amber Ferenz

Danny Boy Lyrics:
Oh Danny boy, the pipes, the pipes are calling
From glen to glen, and down the mountain side
The summer's gone, and all the roses falling
'Tis you, 'tis you must go and I must bide.
But come ye back when summer's in the meadow
Or when the valley's hushed and white with snow
'Tis I'll be here in sunshine or in shadow
Oh Danny boy, oh Danny boy, I love you so.
But when ye come, and all the flowers are dying
If I am dead, as dead I well may be
You'll come and find the place where I am lying
And kneel and say an "Ave" there for me.
And I shall hear, tho' soft you tread above me
And all my grave will warm and sweeter be
For you will bend and tell me that you love me
And I shall sleep in peace until you come to me."


Tree Spirits and Wind: A Love Story

Amber Ferenz

Arr. for Harp K. Brzozowski

Amber Ferenz: bassoon
Kelly Brzozowski: harp

This selection is the last movement of a sonata I wrote in 2022 for bassoon and piano called "Tales From the Grove", commissioned by Terry Ashley in honor of the occasion of her 80th birthday. The piece tells a series of stories about a particular grove of ancient dwarf white oaks on top of Little Scaly Mountain, NC. Today, a retreat called The Mountain exists among the trees, and the folks who run it are passionate conservationists. Trees are such a major part of Celtic sensibilities that it seemed a natural fit to add this piece to our album. I worked with our harpist Kelly Brzozowski to arrange this movement for bassoon and harp. Kelly's thoughtful adaptation of the piano part for the harp and beautiful musicianship made this collaboration a joy. Thanks go to T.D. Ellis and TrevCo Music for their permission to record this piece.

The wind and the trees are made of spirits, and they sing to each other: come closer, my love, and dance with me. The bassoon calls to the wind spirits who arrive in a rush, and the Great Dance continues until they peacefully sing of their love together.

-Amber Ferenz

An Irish Blessing

James E. Moore, Jr.

Arr. Clíodhna Ní Aodáin/Voices in the Wood

Staci Spring, Sasha Enegren, Rosalind Buda, Kathleen Moniaci, Amber Ferenz, Christopher Foss: bassoons
Kelly Brzozowski: harp
Bella Issakova: fiddle

Adapted from Clíodhna Ní Aodáin's arrangement of "An Irish Blessing" by James E. Moore, Jr. (1951-2022), who was an internationally well-known American Black Catholic composer, singer, conductor, educator, and pedagogue from LaCrosse, Virginia.

The melody by James E. Moore, Jr. was written in 1984. His arrangement is based on Irish traditional song lyrics, "May the road rise up to meet you. May the wind be always at your back." We thank Clíodhna, Terra Preta Music, and GIA Publications for their permission to record this piece.

An Irish Blessing lyrics:
May the road rise to meet you.
May the wind be at your back.
May the sun shine warm upon your face.
May the rain fall softly on your fields,
And until we meet again,
May you keep safe in the gentle, loving arms of God.


The May Morning Dew/The Snows They Melt the Soonest

Irish Traditional

Arr. Kathleen Moniaci/Kelly Brzozowski

Kathleen Moniaci: bassoon
Kelly Brzozowski: harp
Rosalind Buda: bagpipe drone

The origin of "The May Morning Dew" is somewhat mysterious. The tune was first documented in the mid-20th century and bridges different musical styles. The melody is often sung with a drone, emphasizing the poetry and story, rather than the melody. The meter is free and the style is detached and trance-like. Contemporary performers, such as Siobhan Miller, have modernized this tune, adding chords and a steady rhythm.

My setting of this tune incorporates free rhythm and drone in the first section, followed by a chordal setting. The middle section is actually a different song entirely, "The Snows They Melt the Soonest," which is strikingly similar to "The May Morning Dew." I have to credit a recording by the Czech blue-grass group 'Druha Trava' as inspiration for this pairing. Melodies like these are said to be in a 'tune family.' These "may have evolved from a single melody that was changed by variation and imitation as it was diffused by oral tradition." britannica.com/art/tune-family. It is not clear whether these two melodies are in fact of similar origin, or a creation of pure happenstance. This rendition is inspired by available recordings and collaboration with our harpist, Kelly Brzozowski.

-Kathleen Moniaci

Be Thou My Vision (Slane or Rop Tú MoBaile)

Traditional

Arr. Voices In the Wood

Sasha Enegren: bassoon
Rosalind Buda: Irish whistle
Kelly Brzozowski: harp
Bella Issakova: fiddle
Kathleen Moniaci, Amber Ferenz, Staci Spring: bassoons

1 Be Thou my Vision, O Lord of my heart;
be all else but naught to me, save that Thou art;
be Thou my best thought in the day and the night,
both waking and sleeping, Thy presence my light.
2 Be Thou my Wisdom, be Thou my true Word;
be Thou ever with me, and I with Thee, Lord;
be Thou my great Father, and I Thy true son;
be Thou in me dwelling, and I with Thee one.
3 Be Thou my Breastplate, my Sword for the fight;
be Thou my whole Armor, be Thou my true Might;
be Thou my soul's Shelter, be Thou my strong Tow'r,
O raise Thou me heav'nward, great Pow'r of my pow'r.
4 Riches I heed not, nor man's empty praise;
be Thou mine inheritance, now and always;
be Thou and Thou only the first in my heart,
O High King of heaven, my Treasure Thou art.
5 High King of heaven, Thou heaven's bright Sun,
O grant me its joys, after vict'ry is won;
Great Heart of my own heart, whatever befall,
still be Thou my vision, O Ruler of all.


Source: Psalms and Hymns to the Living God #352

Song for the Water Spirits (Water Is Life)

Amber Ferenz

Arr. Sasha Enegren

Sasha Enegren: bassoon
Mariya Potapova: violin
Rosalind Buda: percussion

This selection is half of "Two Pieces for Solo Bassoon", written during the height of the COVID pandemic. Thank you to T.D. Ellis and TrevCo Music for the permission to record this piece. I wrote "Song for the Water Spirits" to honor the spirits of my local waters. I feel a deep kinship with Water, and wanted to say Thank You for being, Thank You for allowing us two-leggeds to continue to live. How often do you acknowledge and thank Water? (Water is Life!) While "Song for the Water Spirits" was originally composed for solo bassoon, Sasha Enegren envisioned a vastly different setting for it. I am delighted with the result!

-Amber Ferenz

The Parting Glass

Irish/Scottish Traditional

Arr. Clíodhna Ní Aodáin/Voices in the Wood

Kathleen Moniaci, Rosalind Buda, Amber Ferenz: bassoons
Staci Spring: contrabassoon

Adapted from Clíodhna Ní Aodáin's arrangement of the traditional song. The Parting Glass is a Scottish melody, often sung at the parting of friends. The parting glass or "stirrup cup," was offered as a farewell toast for guests as they mounted to depart on horseback after an evening of merriment. The earliest printed version of the song was from a broadside printed in the 1770s. An old tradition indeed, there are references to the lyrics of this song as early as 1605.

The Parting Glass Lyrics:
Of all the money that e'er I had
I spent it in good company
And all the harm I've ever done
Alas it was to none but me
And all I've done for want of wit
To mem'ry now I can't recall
So fill to me the parting glass
Good night and joy be to you all

So fill to me the parting glass
And drink a health whate'er befall
And gently rise and softly call
Good night and joy be to you all

Of all the comrades that e'er I had
They're sorry for my going away
And all the sweethearts that e'er I had
They'd wish me one more day to stay

But since it fell unto my lot
That I should rise and you should not
I gently rise and softly call
Good night and joy be to you all