Our People
We continue to grow by adding our newest members (Janelle Ott and Patty Fagan-Miller) and inviting guests to join us on our musical journey, and we're already in the planning stages for our next exciting recording project!
Voices In the Wood Combines the Talents of
Kelly Brzozowski
Kelly Brzozowski is a harpist who continues to find herself in new and unusual musical endeavors. She is an avid and enthusiastic educator in the fields of classical and traditional music and has performed throughout Europe and the United States. Fortunate enough to be raised between traditions, she has a lifetime of experience in both celtic and classical music.
Kelly performs regularly in chamber ensembles on the renaissance harp, triple harp, lever harp, and modern pedal harp, with repertoire ranging from medieval to 21st century compositions. She maintains a large teaching studio in her home in Atlanta, GA, and coaches students for competitions throughout the country. Kelly tours regularly with the celtic/appalachian duo, The Reel Sisters, and has performed in venues from New Mexico to New York. She received a Masters Diploma from the University of North Wales in performance and traditional musicology.
Rosalind Buda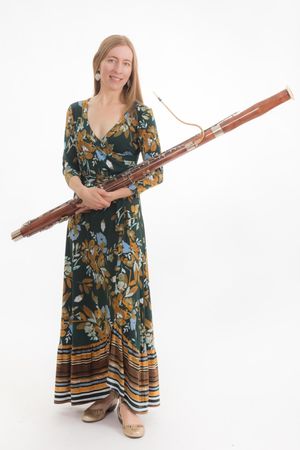 Rosalind Buda is a versatile and diverse performer and educator, playing and teaching music on Scottish smallpipes, Highland bagpipes, whistle, and classical bassoon. Rosalind is passionate about teaching musicians of all ages, and her years of experience in both classical and folk music give her a unique perspective and a multi-faceted, holistic approach to learning. She brings her musically encouraging approach to her private students, college students, and to workshops around the country.
As a bassoonist, Rosalind is an avid performer of chamber music and orchestral music in the Southeast. Her annual bassoon quartet concerts, with the cheeky title, "Welcome to the Bassooniverse," have made new fans of the bassoon and been a platform for sharing music both old and new. As a performer of celtic music, Rosalind freelances and tours regularly with the celtic/appalachian pipe and harp duo, The Reel Sisters, on smallpipes, whistles, and vocals. The Reel Sisters have toured from New Mexico to New York and revel in sharing traditional tunes and stories. In addition to her duo, Rosalind performs regularly as a multi-instrumentalist, singer, and reader with various ensembles including Houston-based Istanpitta Early Music Ensemble as well other bagpipe-centric bands. Rosalind received her MM in bassoon performance from the New England Conservatory.
Sasha Enegren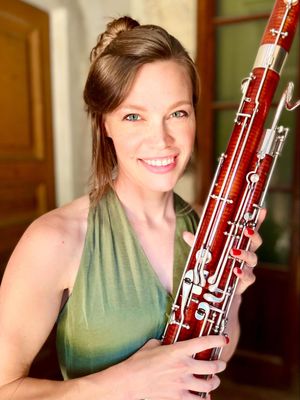 Sasha is a freelance bassoonist in Orlando, Florida. She has had a diverse and rich musical career including playing with orchestras, opera companies, chamber music, solo recitals, university teaching/administration, journal publications, conference presentations, community outreach, research and collaboration, event hosting, and prolific commissioning and world premieres. Across the country and around the world, sharing the creative process with collaborators, colleagues, community, and students has been truly joyful.
A native of Kansas, Sasha lived/worked in New York City for nearly two decades. Having lived in Paraguay, Chile, Mexico and working summers in Italy, she deeply values other cultures. One leg of her research includes creating and making publicly accessible a database of chamber music by South and Central American composers.
Voices in the Wood is important to Sasha because it is a group of professionals who, through actions, lift each other up musically, professionally, and emotionally. It is a beautiful combination of friendship and musical collaboration.
Read more at sashabassoon.com
Patty Fagan-Miller
Patty Fagan-Miller began playing the bassoon after learning several other instruments, but she quickly fell in love with it in her first bassoon lessons in her small Northern California town. She found comfort, humor, and inspiration in its timbre, the glorious staccato, the absurdly wide leaps, and its rich palette of colors. Since these small beginnings, Patty has enjoyed an interesting and wide-ranging career performing on modern and historical instruments around the country.
Patty is a graduate of the University of the Pacific, the Peabody Conservatory of Music, and the University of Colorado at Boulder. She currently resides in Corpus Christi, Texas, where she teaches double reeds at Del Mar College and woodwind methods, aural training, and world music at TAMU-CC. She frequently travels around the country to play baroque and classical bassoons with fine period groups such as the Baroque Chamber Orchestra of Colorado, La Follia Austin Baroque, and Ars Lyrica. She previously taught bassoon at the University of Texas at San Antonio for many years and while there served as principal bassoon with the Symphony of the Hills in Kerrville, Texas. In her spare time, she enjoys playing tin whistle (and sometimes bassoon!) in Corpus Christi Irish Sessions, and spending time with her trumpet-playing spouse, two dogs, and cat.
Amber Ferenz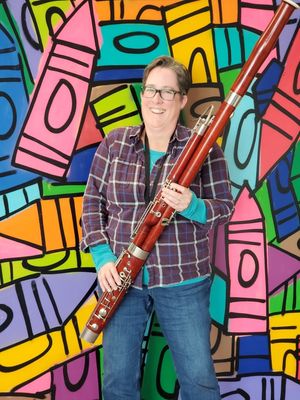 Amber Ferenz is a nonbinary bassoonist, award-winning composer, and arranger. Inspired deeply by the beauty, magic, and mystery of the natural world, they write pieces that weave together melodies and healing songs given by Nature with their own musical ideas. Amber is a founding member of both Elektra Winds in Winston-Salem and Charlotte-based Queen City Winds, and is second bassoonist with the Asheville Symphony. They are the third/contra bassoonist and interim Orchestra Librarian for the Greensboro Symphony, and have been the Camp Coordinator for the Glickman-Popkin Bassoon Camp since 2008. They also serve on the Board of the Bassoon Chamber Music Composition Competition (BCMCC). Amber studied extensively with Mark Popkin and Julie Feves, and holds a Master of Fine Arts degree from the California Institute of the Arts. In addition to their musical endeavors, Amber enjoys creating visual art and doing beadwork. Not only are several of their pieces featured on Voices In the Wood's first album, "New Paths in Old Woods", they also drew the album cover art. Amber will be the featured bassoon soloist for the world premiere performance of their recently completed bassoon concerto "Kachina" with the Western Piedmont Symphony on May 16, 2024 in Hickory, NC. Their piece "Songs for Wicked Children" for bassoon and piano, featuring bassoonist Eric Van der Veer Varner, was released on the MSR label in 2022. TrevCo Music publishes Amber's entire catalog, and in Europe their works are published by Accolade and Emerson.
Christopher Foss
Christopher Foss (he/him) is a freelance musician and teaching artist, living in Brooklyn, NY. He is a professional bassoonist, a student of Kinko-ryu shakuhachi and the Alexander Technique, and a member of the Broadway International Tour of The Sound of Music, playing clarinet and bassoon across Southeast Asia. He has performed extensively with Los Angeles and New York based creative musicians in contemporary music groups such as WildUp, SEM Ensemble, and in house concerts, festival and regional orchestras across the United States and abroad, and was formerly contrabassoonist with the American Youth Symphony and Bakersfield Symphony Orchestra. He holds an MFA from California Institute of the Arts, and BM from the University of New Hampshire with additional performance studies at the Gaetano Donizetti Institute in Bergamo, Italy, Lynn Conservatory of Music, and with the Chikumeisha school in Tokyo, Japan.
Kathleen Moniaci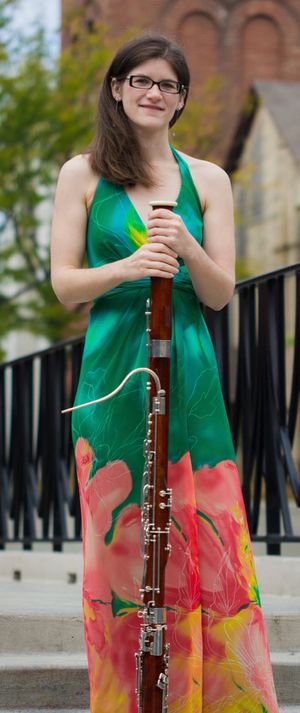 Kathleen Moniaci enjoys a multi-faceted career as a performer, teacher and repair woman in Indianapolis. She grew up in the metro Detroit area and earned degrees from the University of Michigan where she studied with Richard Beene and the University of Cincinnati where she studied with William Winstead.
After graduate studies Kathleen decided to pursue instrument repair. She attended the well known Band Instrument Repair program in Red Wing, Minnesota. After repair school she moved to Indianapolis to begin an apprenticeship with the renowned bassoon restorative artist Paul Nordby. Kathleen maintains this apprenticeship as well as her own repair business, Moniaci Woodwinds.
Kathleen performs frequently throughout the greater Indianapolis area with the Carmel Symphony, Lafayette Symphony, Danville Illinois Symphony Orchestra, Anderson Symphony, Kokomo Symphony and woodwind quintet Impressaria Winds. Kathleen plays Heckel bassoon #6,799, named "Reginald Van der Veer." When not playing the bassoon Kathleen is an avid reef aquarium hobbyist and cat owner.
Janelle Ott
Janelle Ott has a wide-ranging career as a soloist, chamber musician, orchestral musician, and teacher. It is her goal to foster a deep appreciation of music among her students and the greater public.
Janelle is the Adjunct Instructor of Double Reeds and Music History at Angelo State University. She also teaches bassoon, music history, and music theory as an adjunct instructor with Abilene Christian University and McMurry University. She maintains a private studio, and works directly with school districts in Abilene and San Angelo. Orchestral engagements this season include the Abilene Philharmonic, San Angelo Symphony, and Texarkana Symphony.
As a soloist, Dr. Ott enjoys working with local composers to develop and perform new works for bassoon. Recent premieres include works by Amber Ferenz, Stephen Emmons, and Bernie Sherr. In addition to her work with Voices In the Wood, Janelle is a member of the Mesquite Trio in San Angelo and the Key City Woodwind Quintet and Key City Consortium in Abilene.
Janelle holds degrees from Luther College, Wichita State University, and Indiana University, and completed her Doctorate of Musical Arts at University of North Texas. Her principal teachers are Kathleen Reynolds, Bill Ludwig, Nicolasa Kuster, and Eric Ring.
Staci A. Spring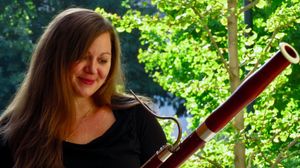 As a professional bassoonist, educator, and arts advocate, Staci A. Spring believes in the transformative power of the arts to create meaningful change in society. Based in Chattanooga, TN, Dr. Spring maintains a private bassoon studio, teaches at several local universities, and is a faculty artist for the Tennessee Governor's School for the Arts. An active freelancer, she can be heard playing bassoon and contrabassoon as a frequent guest musician with the Knoxville Symphony, Chattanooga Symphony & Opera, Huntsville Symphony, and Nashville Symphony orchestras, and in other creative collaborations with musicians across the region. In 2016 she founded the Scenic City Bassoon Ensemble for bassoonists of all ages and skill levels to perform in community settings and to raise funds for charitable organizations. Through the UTC-Wolf Trap Teaching Artist program she collaborates with teachers to integrate arts-integrated learning strategies in early learning classrooms.
Other experience includes a decade of performing and teaching in Texas, participating in numerous conferences and festivals, and serving on the organizational team for the internationally renowned Meg Quigley Vivaldi Competition & Bassoon Symposium. When not on stage or in the classroom, you can probably find her outside hiking a trail with her pup, Harper!
More info can be found at stacispringmusic.com.